What We Do
Brochure Distribution Services (BDS) is a local, Canberra-based, family business which distributes brochures about businesses, services and events in Canberra and surrounding regions to numerous locations around the region. This is a full-time business which offers competitive rates and a constantly expanding, extensive network of brochure racks (or compendiums) at hotels, motels, airports, railway stations, tourist attractions and other prime venues; which are serviced on a regular basis (up to three times a week). Accordingly, we are able to provide useful information to tourists, visitors and locals. In addition, we provide this website which brings everything together in an easy to find manner.
How It Works
Businesses provide us with their brochures and flyers, which we then distribute regularly to our numerous brochure sites at prime locations around our region. These brochures, in our elegant display cases situated in prominent places, are replenished regularly and checked frequently to ensure that only official literature is displayed.
Benefits For Advertisers
Our reliable and professional service ensures that your business is clearly visible to your potential customers or clients. This helps to eliminate costly wastage and saves advertisers valuable time and money.
Benefits For Brochure Distribution Sites
Tourists and visitors will come to your venue to obtain information about things to do and see around our region. This helps to link your site into the local community and also with other local businesses. Because we regularly replenish stocks and tidy up the brochure racks, we save you time and effort.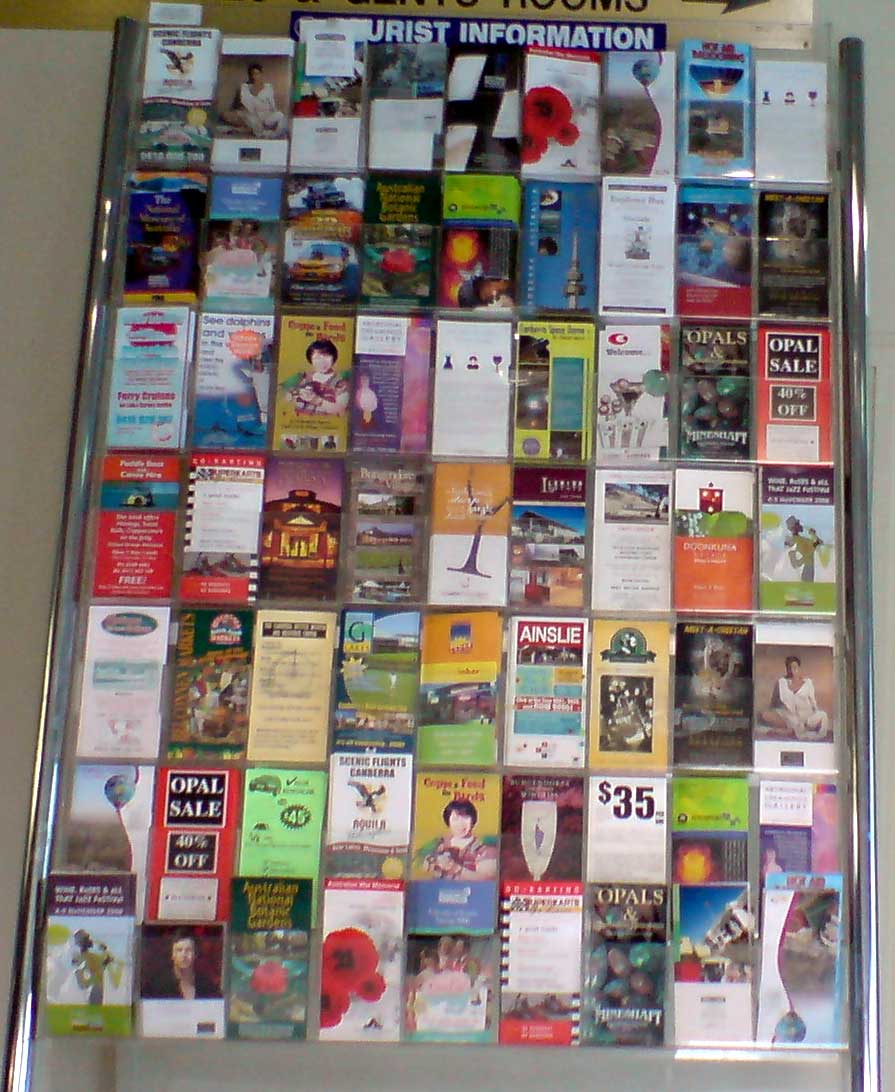 Benefits For Tourists, Visitors and Locals
Tourists, visitors and locals can easily browse through all the available brochures to select things to see and do, places and attractions to visit, museums and galleries, entertainment venues, retail outlets, markets and other interesting things to do. All the brochures are tidy and organised, and are all located in the one place.
Benefits of Using Brochure Distribution Services
In addition to our excellent Brochure Distribution Service, we also provide this useful website which brings everything together, as a "one-stop shop" for tourists and visitors. Our services are constantly expanding, with more brochures, more brochure racks and more links on this website. We are certain that you'll be happy with the services that we provide, in an effort to better promote our region to tourists and locals alike. This helps to keep our visitors well-informed and to make the most out their stay in our region.